Marine Corps Interrogator Translator Teams Association

Home | Gatherings | Memorial | History | ITT's | Bulletin Board | Gear Locker | Links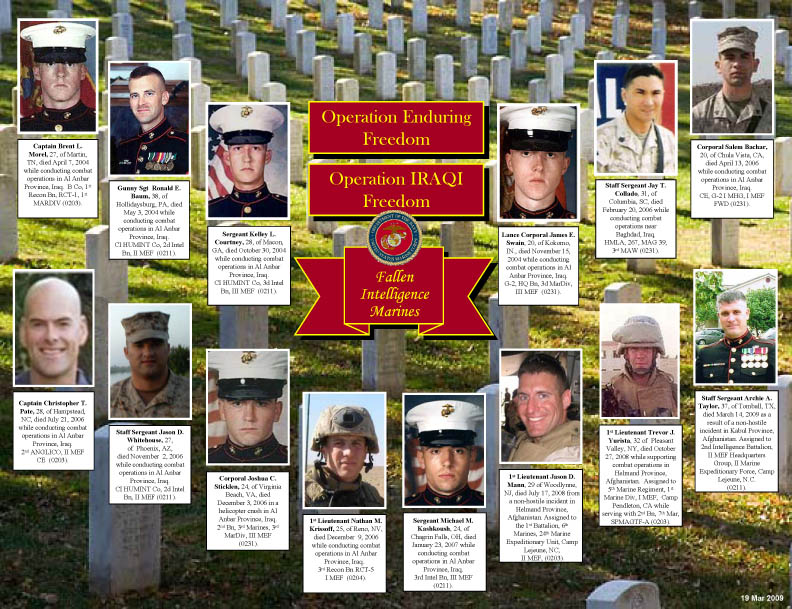 Memoriam
Bulletin Board
E- Bulletin of April 2012
E- Bulletin of 10Feb2011
E-Bulletin of Jan 2011
E-Bulletin 05-10 Dec 2010
E-Bulletin 04-10 Nov 2010
Special Bulletin of Sep2010
The 1st Sergeant always admonished us to read the Bulletin Board at least twice daily. Check here first to "Get The Word" that will have meaning for us all.
This page will post current events that may have an impact on our organization and its members; items of current events, of interest and of historical value.
Added are some information about the Teams (See the History Page)
Minutes of Business Meeting Oct 2013
Business Meeting Minutes Oct 2014
MCITTA Memorial Brick
The MCITTA has caused a memorial brick to be inscribed in honor of Marine Interrogators. The brick is located in the winding pathways to the rally points in Semper Fidelis Memorial Park overlooking the National Museum of the Marine Corps and Heritage Center's awesome structure at Marine Corps Base, Quantico, Crossroads of the Marine Corps. The rally points will be places to reflect upon the sacrifices past and present Marines make to protect our Nation.
Past E-Bulletins
E-Bulletin 01-08 E-Bulletin 02-08 E-Bulletin 03-08 E-Bulletin 01-09
E-Bulletin 02-09 E-Bulletin 03-09 E-Bulletin 04-09 E-Bulletin 05-09
E-Bulletin 02-10 E-Bulletin 03-10 June 2010 Special Bulletin of Sep2010
E-Bulletin 04-10 Nov 2010

Past Bulletins
4th Of July 2012 Message
Message for Memorial Day 2012
4th of July 2013 Message

Adobe Acrobat Reader is required to read some articles.
To download a free copy of Acrobat, click on this logo:
Updated:08/28/20